Salem Design & Manufacturing custom designs and manufactures non-destructive testing (NDT) systems and machinces for a broad range of industries. Our services provide you confidence through the inspection of your products, equipment and materials to ensure their safety and reliability. Salem NDT offers world-class services with our non-destructive testing (NDT) systems that test materials for flaws and defects without slowing down production.
All Products
Eddy Current Solutions
Bar & Tube Solutions

Manufacturing
Solutions
From Customized Non-Destructive Testing Machines to Turnkey Solutions for Eddy Current Testing
Salem Design & Manufacturing is a diversified manufacturing company building the most diverse eddy current inspection machines that can save time, test parts, and sort materials. We work in partnership with leading companies and are experts in custom design and builds of testing systems using proven non destructive testing methods that can automatically inspect metal parts for flaws and cracks without harm to the component. Using this inspection process helps ensure that you are using the best materials and safest components for each application.
---

Dynamic Test
Systems
Testing Systems that Deliver and Control Scanning Probes and Sensors
We design and build systems featuring eddy current technology that helps some of the world's largest manufacturers in the aerospace, automotive, and transportation industries manufacture quality parts that meet the highest standards in safety. With a wide base of experience, we're the right choice to custom build the machines that you need.
---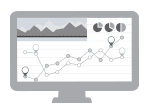 Manufacturing
Information Systems
Cost Effective Eddy Current Solutions
Make your manufacturing quality control data work harder for you without breaking the bank. We can integrate instruments that have software that collects and analyzes all of your testing data for instant access.
Salem NDT is the Premier Manufacturer of Eddy Current Testing Machines
Custom Built for your Inspection Needs