Custom Eddy Current Testing Solutions for All Manufacturers
Salem Design & Manufacturing is Your Solutions Partner in Non-Destructive Testing Machines
Reliable quality control for structure testing and crack detection in components, mass produced parts and semi-finished products that is fast and repeatable.
Eddy Current Solutions to Prevent Unsafe Conditions or Catastrophic Failures
Salem Design & Manufacturing excels in the design, engineering, and manufacturing of eddy current machines, gauging systems, stand alone vision systems, and more. Our customizable eddy current system helps customer the properties of your materials, manufactured components or parts without causing damage to them and giving you confidence in assuring safety and reliability.
Complete test & inspection systems
Custom Built NDT Machines For Your Inspection Needs
Our automated test and inspection machines help you verify your quality products.
Characterization Systems
Detect Surface and Sub-Surface Cracks
Force Gauges and Stress Testing
Laser and Sensor Measurement
Part Marking and Engraving
Leak and Pressure Testing Systems
Position and Presence Monitoring
Probing and Gauging Systems
Photometric Measurement Systems
Temperature Sensing and Control Systems
Vision Inspection Systems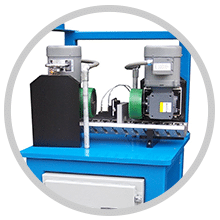 RECOMMENDED & TRUSTED BY:

Now you can easily test, detect, and characterize metal surfaces and sub-surface flaws before final production. Eddy current testing machines enable immediate flaw detection and provides instant verification of parts that come off your production lines including: cutting, forming, and heat-treating processes. Watch one of our custom machines in action and see how today's robotics is bringing to nondestructive testing the same versatility and cost-efficiencies that CNC brought to parts production thirty years ago.
Why NDT works
Prevents accident and reduce costs
Improves product reliability
Determines acceptance for given requirements
See Our Capabilities
About Salem Design & Manufacturing
Since 2004, we have designed and manufactured a large range of nondestructive testing solutions for applications in bar tube and wiring, eddy current, ultrasonic, and vision systems. Salem NDT is a leading manufacturer of testing equipment as a third-party risk management service to reduce litigation risk for automotive suppliers. Using eddy current methods for nondestructive testing and characterizing discontinuities in magnetic or nonmagnetic electrically conducting materials.
Learn More
Our Eddy Current Testing Equipment
Salem Design & Manufacturing utilizes a number of systems that range in various sizes and energies. This allows us to provide custom turnkey solutions for integrated material handling that includes robotics and servo controlled manipulators at a competitive price. We help the world's leading manufacturers of critical components to reduce scrap, warranty, and liability costs.
Learn More
CUSTOM MACHINES BUILT TO MAKE THE WORLD MORE RELIABLE
Your solutions partner