Non-Destructive Testing Systems For Nuclear Fuel Elements & Reactor Components
Salem NDT designs and builds custom non-destructive testing machines for nuclear fuel rods and nuclear reactor components. We help owners, operators, and investors in the Nuclear Fuels industry meet manufacturing and processing requirements. Contact us to learn more about the best solutions for testing of critical parts in nuclear power plants.
Nuclear & Heat Exchange Nondestructive Testing & Inspection Machines
Ultrasonic Tube Inspection Systems
Thimble Tube Inspection System
CNC End Facing Machines
Break Away Oxidation Tester
ECO, Tube Cut, Face, Chamfer, Gauge
Laser Bar Code Marking Systems
Tube ID / OD Cleaning Systems
Robotic Tube Pluggers
Tube Un-pluggers
ID Grit Blasters
EDM Thimble Tube Drilling Machines
Robotic Pliger Mill Exit End Automation
UT Guardian System
UT Guide Roll Stands
UT Manipulators
25 Axis UT Manipulator
Fuel Rod Assembly System
Developed DXALS for Multi Axis Crystal Spectrometer
Straightness Gauge
Cut to Length / Facing system
Straightness Gauge
NDT Weld Inspection of Nuclear Fuel Rod End Cap Welds – Advantages of Non Destructive Testing
Nuclear fuel rods are designed to transfer heat from the reactor in order to protect from overheating. If a rod were to develop a leak, the coolant would pass radioactive debris through the reactor. The repair and cleanup efforts would be costly to the fuel manufacturer and utility company. Non-destructive testing machines employ inspection techniques that can inspect fuel rods and end cap welds during the fuel rod fabrication process to detect defects and flaws.
Fast, accurate, and consistent pre-production inspections for nuclear fuel manufacturers
Reliable Non-Destructive Inspections for the Nuclear Fuels Industry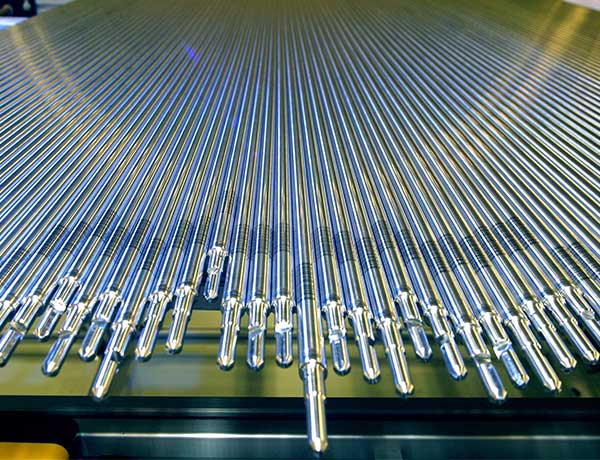 Fuel Rod Assembly
Non-Destructive Testing Solutions and Technologies
Ultrasonic Inspection Systems
ID/OD Cleaning
CNC End Facing
Robotic Integration
Gauge Machines
Cutting & Facing System
Salem Design & Manufacturing Builds Non-Destructive Testing Machines for the Nuclear Fuel Industry
The nuclear fuel industry is dominated by the demand for light water reactors. Uranium is a clean energy source where one uranium fuel pellet can create energy equivalent to one ton of coal. However, uranium needs to be mined and processed before ready to go into a reactor. This creates the need for safe manufactured components (ie. fuel assemblies) that will not fail. Salem Design and Manufacturing is dedicated to helping manufacturers avoid huge safety risks by producing custom non-destructive testing machines to inspect components to prevent catastrophic and costly failures. Custom NDT Equipment By Salem Design & Manufacturing
Now that we've shared how eddy current inspection equipment is used for Nuclear Fuel component testing, learn more about non-destructive testing systems. You're sure to find no one designs and builds a machine better than Salem NDT. It's our mission to provide you the best and most reliable Nuclear Fuels non-destructive testing machines on the market. Speak with one of our experts today!