Case Depth Testing Equipment
Pre-production transmission shaft inspection system for the automotive & aerospace industries
Preferred choice for transmission shaft flaw detection
The transmission shaft inspection machine is built using the Uni-Versal Eddy Current inspection system. This machine can test a transmission shaft for flaws or defects. Combing the power of a FANUC LR Mate 200iD Robot and a Criterion NDT eddy current testing instrument, manufacturing operations have the advantage to test materials in small spaces.
Criterion NDT's CR-11 single channel eddy current test instrument – used to specifically find material defects such as cracks and flaws in components during production processes. This happens in real-time.
FANUC LRMate 200iD Industrial Robot – the best reliable mini robot for process automation.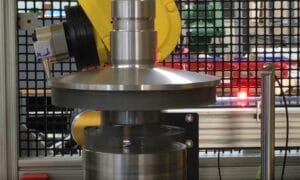 NonDestructive Test Applications For:
Heat Treat Verification
Transmission Shaft Case Depth
Crack and Flaw Testing
We're Experienced in Building the Most Versatile Transmission Shaft Inspection Machines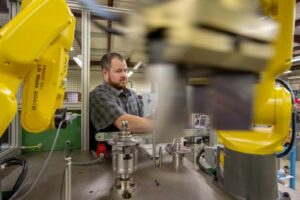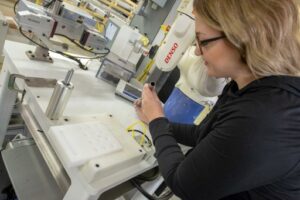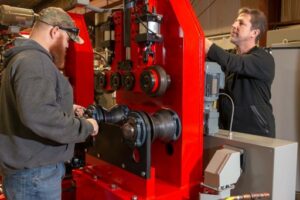 Get a Personalized Estimate For An Eddy Current Transmission Shaft Inspection Machine
With such broad capabilities, Salem Design and Manufacturing partners with corporations to custom design and build non-destructive testing machines that can sort, test and inspect parts to a degree not easily achieved with human or other optical inspection systems. Fill out the form below and we'll get back to you to get more details.