Brake Rotor Eddy Current Inspection Machine
Pre-production brake component inspection system for the automotive & aerospace industries.
Manufacturing Industry's Choice for Inspecting Brake Rotors Before Production
Porosity in die casting brake rotors is found when there are small voids, holes, or pockets of air found within the metal. The dual spindle machine inspects each individual rotor for porosity. It has a fast 30 second part to part cycle time. Not to be confused with eddy current brakes or magnetic braking technology, this machine uses eddy current sensors that inspect the metal alloys for any cracks or flaws.
Automatic robot or gantry stations are used for handling the rotors for final inspection. The machine used for this final inspection uses eddy current testing which is one of the many electromagnetic testing methods used in the manufacturing process. Electromagnetic induction testing is used to detect and characterize surface and sub-surface flaws in metals and alloys and is a nondestructive testing procedure.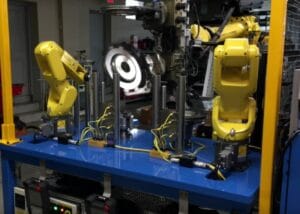 Custom Design and Versatility Delivers Accurate Results
Robot or Gantry Handling
Fast Cycle Times
Integrated Scrap Rejection
We're Experienced in Building the Most Versatile Brake Rotor Inspection Machines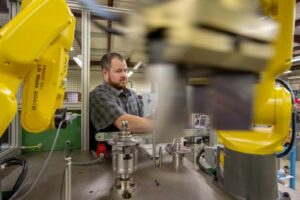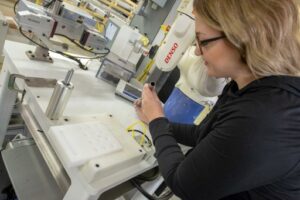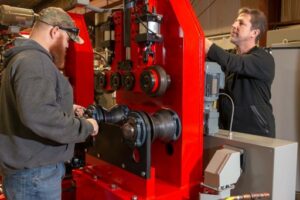 Get a Personalized Estimate For An Eddy Current Robotic or Gantry Testing System
With such broad capabilities, Salem Design and Manufacturing partners with corporations to custom design and build non-destructive testing machines that can sort, test and inspect parts to a degree not easily achieved with human or other optical inspection systems. Fill out the form below and we'll get back to you to get more details.